School might be on break but the learning does not stop for the summer. At the Azraq Center, we've adapted our summer schedule to promote enriching education while keeping elements of summer fun!
Thursday is our craft day. Whether it's a musical performance or a drawing workshop, you can always expect your artistic side to be satisfied on Thursdays at the Azraq Center. Our amazing teachers have gone above and beyond this summer through a wide diversity of engaging and unique activities that allow students to think in new ways.
The benefits of exercise span from enhanced academic performance to prolonged smiles throughout the day. We start every morning with guided exercises, making sure all of our students are not only staying active but doing it in a way that makes it fun. We also frequently take trips to the nearby soccer field where our students are navigating teamwork, healthy competition, and bending it like Beckham.
Giving back to our school
We all have a role to play! To give back to the campus, students help out to maintain and clean up around the school alongside teachers and staff. Students saw the intersection of creativity and utility as they channeled their inner artist into repainting walls and murals. This process of giving back creates a shared sense of compassion and care.
6th-grade students spent the day learning more about Azraq Town at a local military memorial and museum. This visit yielded an enriching historic and cultural experience for our students who learned more about the history of their town.
The Azraq Center welcomed Magician Jamie Jibberish from Magic for Smiles who specializes in humanitarian magic for refugees in Lebanon, Jordan, and Turkey. Jamie dazzled students with his tricks while promoting self-confidence through performance.
This summer, we opened our classroom doors so that our mothers didn't just observe the programs their children are in but were able to actively engage with them IN the classroom. We are committed to sharing a love of education that extends into the home and engaging with parents is an essential step in this process!
Fourth and fifth-grade students at the center participated in a play entitled Conserving Our Environment. The play explored the effects that littering has on trees and the natural landscape, urging everyone to pick up their trash.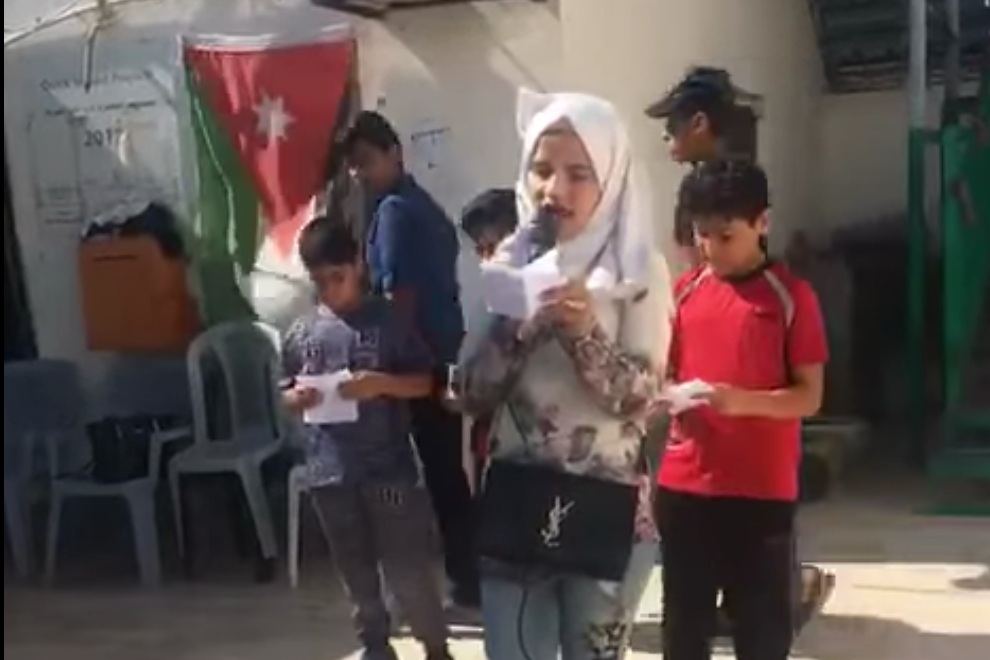 The Azraq Center's Monday morning radio is an opportunity for students to engage with their classmates and develop their public speaking skills. Students take turns each morning to take the microphone and read out loud, tell a story, or share an update from the news
After hosting several iftar dinners and providing food distributions throughout the month of Ramadan, the Azraq Center celebrated Eid al Fitr with our community with a banquet dinner and lots of celebrations.
Dance for Azraq high school exams
Students from The Azraq Center performed a traditional dance to celebrate students at a local high school as they took their final exams.
This year we went all out for our Eid al Adha celebrations. From arts and crafts to musical performances, our community came together this holiday providing a joyous time for everyone. In addition to these holiday activities, we celebrated by distributing fresh meat and new clothes. This Eid proved a great culmination to an amazing summer at The Azraq Center.