Alex is the 13-year-old son of an American-French ex-pat family living in Kuwait, though he spent most of his childhood in Amman. As a member of the boy scouts, Alex has been an active volunteer helping refugees living in Jordan. This year, for his Eagle Scout badge, Alex started Operation Puppet Pals. He rallied 100 volunteers of twenty different nationalities across borders and together, they made over 1,000 sock puppets for Syrian refugee children in Jordan.
Alex reached out to Mercy Corps and was put in touch with Catherine, the Director of Resource Distribution with whom Demetri and I worked. It was a perfect opportunity, Catherine explained to him, as we had just started the 'welcome kit' project. The bags of crayons, coloring books and small toys that we funded were being assembled by the boy and girl scouts of Amman. When Alex arrived, as the last part of Operation Puppet Pal, he would be able to add the final piece – a colorful, cuddly, and comforting sock puppet for each kit.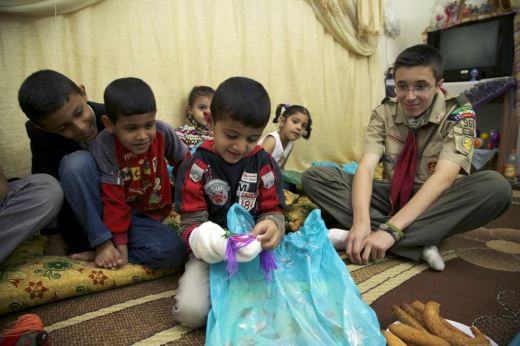 We are proud to have been able to work with Alex and the rest of the scouts to make these bags possible. This was a beautiful example of children helping other children in need. We can all learn something from the generosity and dedication that Alex and the rest of the kids showed to bring the project to life.
We've made a tremendous impact for people over the past two months and to be able to help children like this is really special. This is such a unique opportunity and we are thrilled to be able to continue to make a difference for people in this terrible time. We hope you enjoy these photos as much as we do.